Do my Straight talk Minutes roll over?
No your minutes will not roll over but 1000 minutes for $30 is only 3.3 cents a minute.   Straight Talk has a glitch on adding phone cards.  If you have ten days left on your unlimited cell phone card and you add a 30 day card you will only get 30 more days.  Straight Talk does not add a new cards end date to your current balance.  You need to wait until the last day or two to add your new Straight Talk card.
What information will I need to give Walmart Straight Talk in order to port my number?
You need to provide the following information:
* The phone number to be transferred.
* The account number or service PIN from your current phone service provider.
* The last 4 digits of your SSN.
* Create a Straight Talk Cellular from Wal-Mart Account.
* Accept the Terms and Conditions of Service.
* A Service card or plan at the time of Activation.
What is Local Number Portability or LNP?
With LNP, it is possible to maintain the same phone number when transferring to another cellular carriers or between wireless and landline companies. You are only able to move your telephone number to another carrier within your local market. The Federal Communications Commission has written rules mandating that carriers are required to implement LNP starting November 24, 2003, in the top 100 Metropolitan Statistical Areas (MSA).
Can I transfer my number to a Straight Talk from Tracfone phone?
Yes, as long as your number is active you can transfer it to a Straight Talk Cellular from Wal-Mart phone. If your number has been inactive for a while and has been reassigned by your previous vendor you will not be able to transfer your number.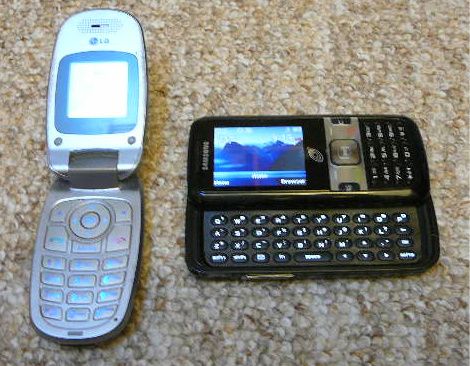 Straight Talk, Tracfone and Net10 LG 200c and Samsung R451c
Wal-Mart Straight Talk "Unlimited" is among the two programs marketed by Straight Talk Prepaid.
The recently released Straight Talk Wireless Unlimited plan is $45 for 30 days. That includes Unlimited units, Unlimited text messages, and Unlimited data for your phone when using the Wal-Mart Straight Talk Unlimited plan. However this is the lowest cost Countrywide Unlimited plan to be found.


They are an alternative Prepay Wireless Cell phone company that is a three way partnership of Walmart, Verizon Wireless and Tracfone. Walmart is supplying the marketing, Tracfone is providing the prepaid cellular phone software and the customer service and Verizon Wireless is supplying the cell phone system.
What is the Straight Talk Wireless "All you Need" Plan?
All you Need is a contrasting plan that Straight Talk Wireless offers. It will cost you $30 thirty days and it includes 1000 units, 1, 000 texts, and 30 meg of data transfer. This is the best price available for minutes of prepaid cell minutes. If you're not using over 1, 000 minutes a month and you are spending more than$ 30 30 days this may be a better plan in your case than the Unlimited plan. STMonst1-022010
More facts about Straight talk Pre pay. The alliance between Walmart, Tracfone and Verizon has developed a new company with the most cost- effective Cellphone prices. The best cell phone to be had is the Straight Talk Prepaid Samsung R810c Finesse.
This Pay as you go cellular phone plan is more than enough to make you want to Quit Your Cellular telephone long term subscription and begin saving money immediately. The straightforward Straight Talk from Walmart LG 200c Clam Shell Cellphone and the Walmart Straight Talk Prepaid Cell Phone Pricing are going to take the cellphone world by storm The Tracfone Straight Talk Unlimited$ 45 a month program is unheard of for a Nationwide calling plan. Adding that it is also not a contract plan makes it more available and an even better value. Check out this Straight Talk from Tracfone Prepaid Wireless Post.
Where can I purchase Straight Talk Wireless Phones and Service?
The phones and service may be purchased at over 1800 Walmarts in the United States or online at Straight Talk.com
The Best Price on Straight Talk
How to get the Cheapest Price on Straight Talk Wireless Phones from Straight Talk.com

Check out my review of the Straight Talk from Walmart R451c Qwerty Keyboard.
Here is a review of the Straight Talk Lg 220c.
The Top of the line Straight Talk Samsung R810c Finesse Smart phone review.
How does Straight Talk Reception stack up to other Cell Phone companies?
Will I be able to use my Straight Talk as a Modem?
******Google Search Box*******
Tags: Straight talk Minutes roll over